<Altered.Code>
Won the Bronze Laus Award (2021)

Embracing the surrealism of digitalism

Altered.Code is a monthly online magazine that tackles prejudice and negativity regarding our future as a society. It is a platform for the curious, for the digital, and the creatively fearless. For those who seek what tomorrow might bring and are ready to push the boundaries of the expected. The platform adopts an attitude of positivity and eagerness for the future. We feature creatives, artists, and brands shaping their industry in regards to the digital era in which we live. We welcome those who are ready to step out of the norm and create a new reality.
The website acts as a visual manifestation of Altered.Code's soul. We have approached the design decision in a structured module layout with a distinct editorial behaviour, juxtaposed to the content's intensity and visual saturation. We bring the focus on the beauty and excitement of the imagery concerning the dynamism that the topic provides.

The platform's content is spread in 3 distinct categories: Stories- featuring the latest news and updates regarding the emerging digital trends and online identities; Profiles – promotional and education page of CGI models, 3D artists and brands shaping the future; Beauty Room – handpicked selection of face filters, breaking the common perception of what is considered beautiful in the digital era.
Altered.Code's Instagram account acts not only as of the link between our readers and the magazine but also as easy to reach out to channel that introduces its followers to creators, artists, brands, and opinions regarding the future of our society and the creative industries.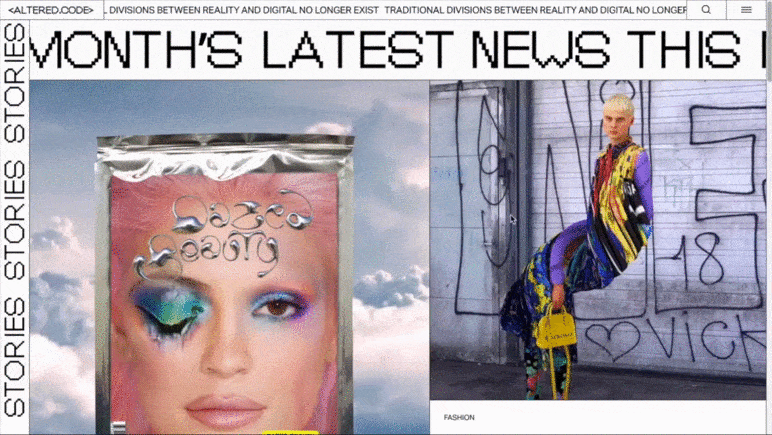 This is a student project. No part of this publication may be reproduced in any form or manner whatsoever without prior written permission.